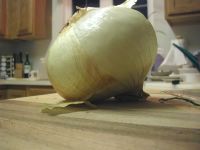 God is reading this. Maybe that sounds cocky, but I don't mean it that way. Let me tell you how I know.
A few posts back, I wrote about how God seems to iron out the imperfections in our musical worship team. The point of my post was about remembering the reason we are worshipping (not about OUR glory), and leaning on God to help us overcome our human imperfections in worship.
The VERY next worship team I attended after posting that article was very difficult for me. I couldn't seem to get ANYTHING right. It was as if God was saying: "So, Tom, you think you've got a grasp of how I work, do you? You've understood this aspect of me enough to post it on your blog, huh? Well guess what Tom, you haven't BEGUN to see how deep this issue can go. But since you're atuned to the topic, let me give you the opportunity to practice what you preach!"
When I shared this with the other members of the worship team, they informed me that God OFTEN works that way in their lives. That is, just when you think you've mastered something, and got it all figured out, our Maker leaps in to notch the whole struggle up, and lovingly remind us how far we've got to go in our spiritual development.
I was excited to learn from my fellow Christians (all of whom have been walking in Faith for longer than I have), that this experience is common. Here was a new revelation of how God works!
Of course, I could take this revelation, and foolishly think I'm getting close to figuring out God and his ways. How many times have I been reminded not to "put God in a box?"
No, if I've learned anything of our God's methods, it's that HE seems to abhore predictability. Sometimes I think (and I know I'm not alone in this thought) that God will
deliberately
move in the
exact opposite
way of how any human would do it - just to remind us of the immense gulf between His way... and our ways - between the Creator... and the creation.
As for me, I feel that God doubly blessed me. Not only did He pull me further in to learning to lean on him, he gave me a new clue as to how to listen to Him. Of course, He may use a completely different method tomorrow, but right now, I THINK I've learned to be on the lookout for what happens right after I think I understand something. When I think I've peeled off the last layer on the onion of understanding, He is ready to show me the deeper layers.
I'll tell you one thing, I'm going to be careful of what I decide to post on this blog! I might think I've got something to share, but the heavenly reader might be more concerned with the guy at the keyboard. Or maybe, He will touch a reader and the writer simultaneously. Tell me, fellow Christians, does God ever work on more than one level at once? Maybe the better question is: Does he ever not?