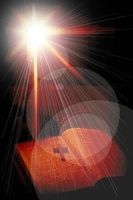 A colleague and I got to discussing Pope Benedict the other day. I was particularly interested in my colleague's impression, since he used to be a man of the cloth. My friend is no longer a priest, but, not surprisingly, he still follows matters of the Catholic Church with much interest.
Without giving a blow by blow account of his thoughts on the new Pope, I did learn that Cardinal Ratzinger, despite his recent role as the conservative "enforcer" in the RC Church, was a much more liberal writer before his duties were increased. According to my friend, Ratzinger's prior writings show him to be gifted in matters of deep, theological thought. My friend felt that it was a shame that a "theologian" of such caliber had been placed in to such a high "administrative" role. He felt that attending to such matters of practicality would lessen Ratzinger's academic/spiritual freedom to explore religious issues without bias. If I understood him correctly, his implication was that Ratzinger's liberal interpretations were squelched - not by active cencorship, put by giving him more responsibilty in "active" duty. My former priest friend feels that thinkers should be allowed to think, and administrators should be left to act.
I had no idea just how much "liberal interpretation" my colleague was advocating, until he started talking about the possibility that maybe Jesus had been married to Mary Magdalene. According to him, there is much speculation about this. Since I haven't read the DaVinci Code, I guess I'm not as "up to speed" on that issue.
Furthermore, he informed me that numerous liberal scholars believe that Jesus was the groom at the Cana wedding - the one where he performed the first miracle of turning the water to wine. Apparently, the reasoning goes like this: Jesus' mother could only have had such responsibility at this wedding if she were the groom's mother. Additionally, she would not have called on Jesus to fix the problem unless it was his responsibility - as the groom of the event.
I'll say right now that everything in my soul denies such a possibility. My feeling is that Jesus could not have attended to marital issues while becoming savior of this world. I believe that his singular mission was to do the work His Father had sent him to do. When Jesus said: "
My food is to do the will of Him who sent me and to finish His work.
"(
John 4:34-35), I don't think he planned to supplement this diet with ANY worldly snack. His mission was so focused; there was no room for earthly distractions.
Unfortunately, as much as I believe this, I was at a loss to prove it to my colleague. I kind of stammered, presented the argument above, but had no rock solid evidence to dispute that Jesus was the groom at Cana.
My first mistake was to search for extra-biblical evidence to deny the case. A google search brought me to
THIS
article by Hal Lindsey. Since I already like Lindsey's teachings, I forwarded it to my friend.
He did not comment on the content of the article, but instead, sent me a link back to a Wikipedia entry that questioned Lindsey's character/witness. Tempted as I was to defend Lindsey, I knew this would take us way off the point in question.
Here's where I think I finally did something right. Instead of quoting numerous others I like to read, I WENT TO THE SOURCE. That's right, I opened up my Bible, and read the passage.
In very short order, John 2:2 leapt out at me. "
Now both Jesus and his disciples were INVITED to the wedding
." Why would the groom need to be invited to the wedding? Would not the groom be the one doing the inviting? Furthermore, if Jesus AND his disciples were invited, and one of them was the groom, which one was it? Perhaps the bride got to choose at the last minute?
Just in case the translation I presented was questionable, I checked out numerous versions of John 2:2 from
http://www.christnotes.org/
The variations of the term "invited" included: "was bidden;" "came as guests;" and "was called". I suppose one
could
read these different passages, and
still
argue that Jesus was married at the Cana wedding, but that would seem to require more effort than I care to expend. One could doubt the accuracy of ALL these modern translations, but then one begins to doubt God's ability to preserve his Word. Finally, many will decide that scripture itself is not inspired (dictated by God through men), but merely the musings of a bunch of colluding, conspiratorial, manipulators of the masses.
Once someone doubts the Bible itself, we're in to a whole different discussion. Allow me to quote Rick Wade at Probe Ministries:
"The testimony of Scripture to its own nature finds confirmation in many areas.
Even with all this evidence, however, we aren't going to be able to prove the
inspiration of the Bible to anyone who either isn't interested enough to give it
serious thought or to the critic who only wants to argue. But we can share its
message, make attempts at gentle persuasion and answer questions as we wait for
the Spirit to open the person's mind and heart." http://www.probe.org/docs/inspiration.html
So today, I'm thanking Jesus today for two things. First, for not allowing himself to be distracted from his mission to save me. Second, for his nudge to me to turn first to his Word, before any other source. The Word is, after all:
"inspired by God and profitable for teaching, for reproof, for correction, for
training in righteousness." 2 Timothy 3:16